Composite Bonding in Plymouth
If you damage or discolour a tooth, it isn't always necessary to replace it. Transform your smile and appearance in a single visit with Composite Bonding.
A fast and effective modern cosmetic procedure for fixing minor teeth defects.
Composite Bonding here at Mannamead Cosmetic Dental Centre involves using "dental composite", a paste-like material made from acrylic resin, sculpted like putty into the desired shape.

The resin comes in many shades to match your natural teeth's exact colour, shade, and texture, producing a natural-looking appearance.

After being hardened using a curing light, the cosmetic bonding is strong enough to bite with by the end of your appointment, making it a quick, painless, and cost-effective procedure.
Cosmetic bonding can fix several dental issues, such as:
Broken, chipped or cracked teeth
Closing gaps between teeth
Reshaping teeth
White fillings
Composite veneers are a cost-effective alternative to porcelain veneers
How does composite bonding work?
The tooth's surface where the composite is applied is cleaned as the composite needs a clean surface to bond with. Once the right resin shade has been chosen, the tooth is shaped or roughened, and the composite is applied. Finally, the resin is polished and buffed to give the desired shape and smooth finish.
How long does composite bonding last?
Composite bonding is long-lasting but not fully permanent. With proper care, the bonded teeth will last around five years before needing any polishing or repair.
Does cosmetic bonding damage your teeth?
No, composite bonding doesn't damage your teeth at all and can also be removed without causing any damage.
How much does composite bonding in Plymouth cost?
Composite Bonding at Mannamead Cosmetic Dental Centre starts from £265.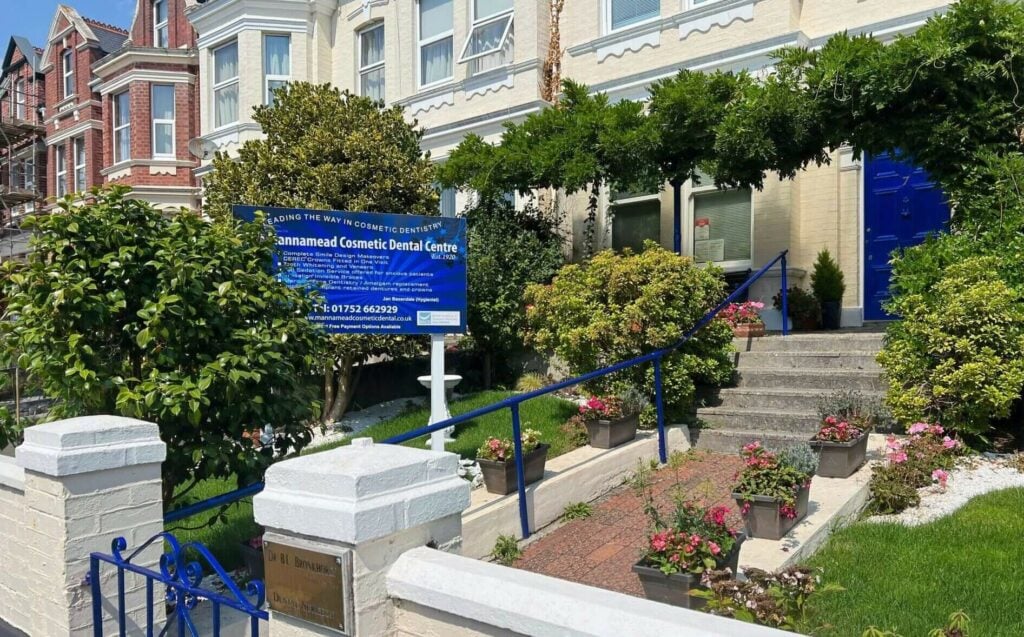 Are you ready for your new smile?
To find out more about Composite Bonding or to book an appointment at our dental clinic in Plymouth, call us on 01752 662929, email us at or:
Mannamead Cosmetic Dental Centre
Where to find us
We're located near the city centre, convenient for public transport, or use street parking and car parks nearby.
From Plymouth city centre, up North Hill (B3250) and across Mutley Plain onto Lockyer Road. We're roughly 100 metres from The Hyde Park public house.
Address: 7 Lockyer Road, Plymouth, PL3 4RL