Dental Bridges in Plymouth
Dental bridges are designed to stay in place and not be removed by using the teeth on either side of the gap as an anchor for the false tooth.
A well-designed and maintained dental bridge can last 10 to 15 years.
Making a dental bridge requires two visits with us at Mannamead Cosmetic Dental Centre. At the first visit, the tooth or teeth are shaped for the type of dental bridge chosen.

We then scan your teeth using a digital scanner and send this to our dental laboratory. After scanning, a temporary bridge will be fitted so that you can smile and function normally.
What are the main types of Dental Bridges?
The three main types of dental bridges are Fixed Bridges, Cantilevers, and Resin Retained (adhesive).
Fixed Dental Bridges
A fixed bridge uses new crowns on the teeth on either side of the gap to anchor the false tooth/teeth. This solution is very stable and can be used anywhere in the mouth, but it involves crowning teeth, which can result in the polishing away of tooth structure.
Resin Bonded Adhesive Bridges
Adhesive bridges use very powerful glue to bond a wing to the inner surface of the teeth beside the gap. These wings act as an anchor for the false bridge tooth. This technique is usually only suitable for small gaps and front teeth. However, it requires less removal of tooth structure than fixed bridgework.
Cantilever Bridges
Cantilever bridges are used where only one secure tooth is on one side of the gap.
How do I look after my Dental Bridge?
Caring for a bridge is key to its long-term success. This includes regular cleaning of gaps underneath the bridge and visits to the hygienist. As well as brushing at home, a range of additional dental hygiene aids helps keep your bridge clean.
What are the alternatives to a Dental Bridge?
Dental implants and removable dentures are alternatives to a dental bridge. Dental implants are considered the best way to replace natural teeth.
How much does it cost for a Dental Bridge in Plymouth?
Dental bridgework at Mannamead Cosmetic Dental Centre starts from £665, depending on the number of teeth and the system used.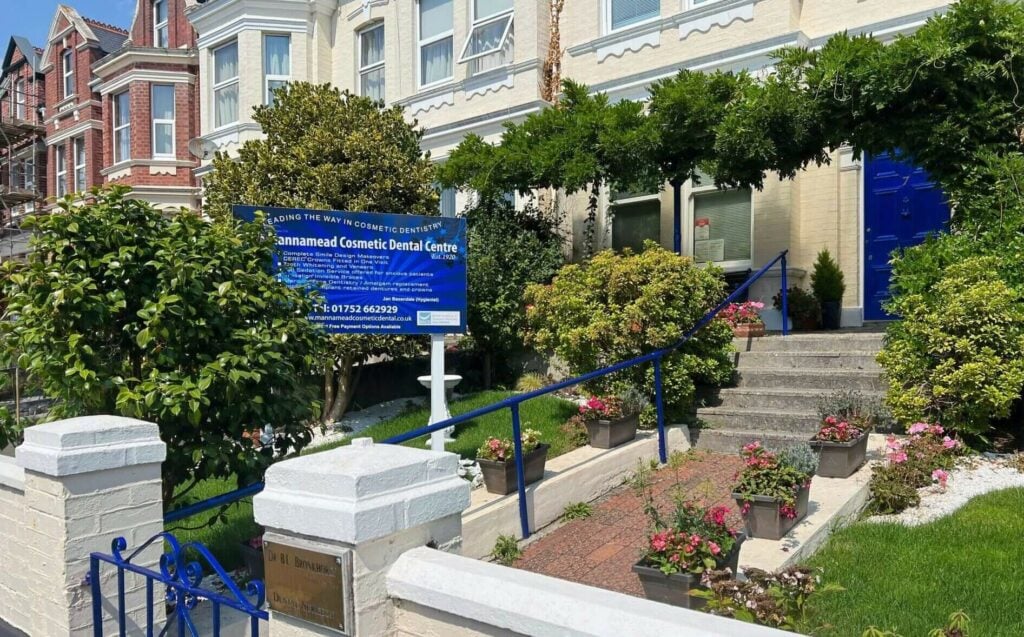 Are you ready for your new smile?
To find out more about Dental Bridges or to book an appointment at our dental clinic in Plymouth, call us on 01752 662929, email us at or:
Mannamead Cosmetic Dental Centre
Where to find us
We're located near the city centre, convenient for public transport, or use street parking and car parks nearby.
From Plymouth city centre, up North Hill (B3250) and across Mutley Plain onto Lockyer Road. We're roughly 100 metres from The Hyde Park public house.
Address: 7 Lockyer Road, Plymouth, PL3 4RL