Root Canal Treatment in Plymouth
Root Canals help prevent tooth extraction. If you're in pain, your tooth is likely infected at the core.
We will always try to save your tooth rather than extract it.
Root canals (Endodontics) are a particularly skilled form of treatment and usually take a couple of appointments to complete. You can sometimes experience severe pain and discomfort when a tooth becomes infected, and treatment is often required if you want to save the tooth, so contact us immediately.

The danger of not doing so is that the infection will travel down the root canal and form an abscess, which is extremely painful.
What is a Root Canal, and when is it needed?
Root canal treatment treats infection in the centre of a tooth caused by bacteria that live in the mouth and invade the tooth. Infections can happen due to tooth decay, leaky fillings, or damage to teeth.

The root canal system contains the dental pulp and extends from the tooth's crown to the root's end. A single tooth can have more than one root canal. The pulp is the nerve supply to your tooth. If it becomes infected, it can spread into the gum, causing an abscess or gumboil.

These can be very painful, making the area very sensitive to touch and impossible to eat, leading to tooth loss. You may have some toothache, but you might not have any pain in the early stages. A tell-tale sign of something wrong with the nerve system within the tooth is discolouration or a slight darkening.
How is Root Canal Treatment carried out?
Our dentist will administer a local anaesthetic to numb the area so the procedure will not be painful and no more unpleasant than having a filling. The infected or inflamed pulp will then be removed, and the root canals will be cleaned, shaped and sealed.
Root canal treatment removes bacteria and fills the root canal. In most cases, the inflamed tissue at the end of the tooth will heal naturally.
Depending on the tooth's condition, we can restore it to its full shape and function with either a permanent filling or a crown.
Does Root Canal treatment hurt?
Usually, root canal treatment does not cause pain. However, if an acute tooth abscess is present, the local anaesthesia may not anaesthetise the tooth entirely.
We always use plenty of local anaesthetics and allow sufficient time for the local anaesthetic to work to make the treatment as painless as possible.
How much do Root Canals in Plymouth cost?
Root Canal Treatment at Mannamead Cosmetic Dental Centre starts from £626.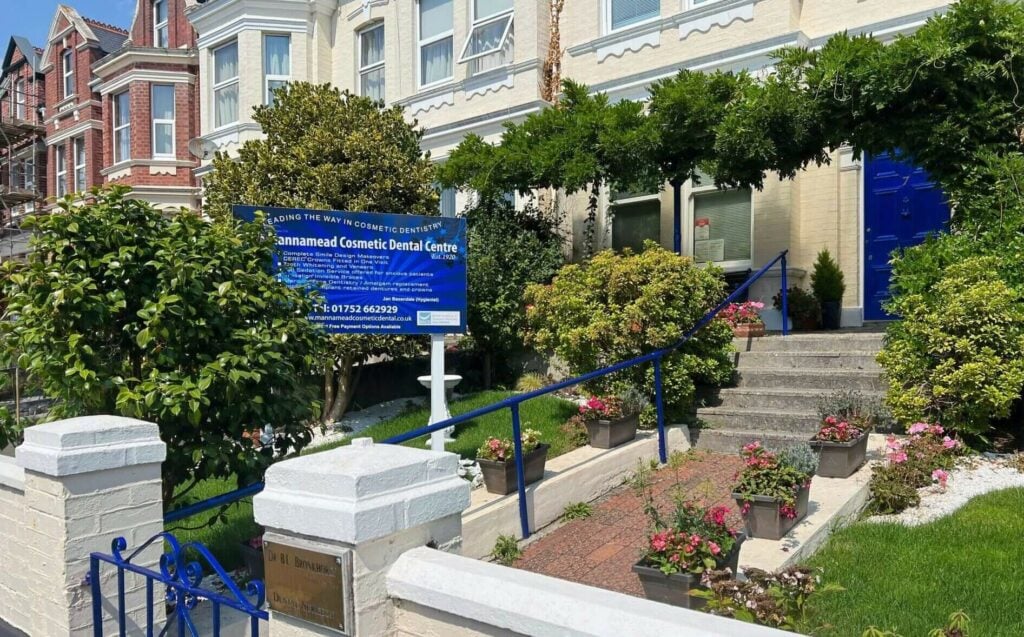 Are you ready for your new smile?
To find out more about Root Canal treatment or to book an appointment at our dental clinic in Plymouth, call us on 01752 662929, email us at or:
Mannamead Cosmetic Dental Centre
Where to find us
We're located near the city centre, convenient for public transport, or use street parking and car parks nearby.
From Plymouth city centre, up North Hill (B3250) and across Mutley Plain onto Lockyer Road. We're roughly 100 metres from The Hyde Park public house.
Address: 7 Lockyer Road, Plymouth, PL3 4RL